This weekend, the adventure of Formula One has reached Canada for the Grand Prix in Montreal. The race consists of 70 laps, with a circuit distance of 305.27 kilometres. After qualifying pole in Montreal, Hamilton achieved his 65th pole making him level with Ayrton Senna. Hamilton was presented with an Ayrton Senna helmet from the Senna family, making it of course an emotional and meaningful ceremony to Hamilton.
Hamilton admitted upon receiving the helmet, "I'm shaken. Speechless. I know that Ayrton was for many of you your favourite driver, and he was the same for me. He was the one who inspired me today, so to match him and to receive this is a great honour. To Ayrton and his family, God bless you, thank you." 
Hamilton's first run in Q3 smashed Ralf Schumacher's qualifying lap record from 2004 of 1m 12.275s, with 1m 11.791s, and left his rivals reeling, as Bottas lapped in 1m 12.177s, Raikkonen in 1m 12.341s and Vettel in 1m 12.423s. Vettel's response on his second run was equally stellar, though, coming up just four-thousandths short at 1m 11.795s. Hamilton, however, had an answer – 1m 11.459s – to seal the deal, even though Vettel did a third run and trimmed his time fractionally to 1m 11.789s. It was all further endorsement of how close F1 is these days. Therefore from qualifying, the top 20 driver line up for the race decided to be Hamilton, Vettel; Bottas, Raikkonen; Verstappen, Ricciardo; Massa, Perez; Ocon, Hulkenberg; Kvyat, Alonso; Sainz, Grosjean; Palmer, Vandoorne; Stroll, Magnussen; Ericsson, Wehrlein.
In regards to the race, Hamilton came first earning himself 25 points which contribute to his race for the world championship. Bottas came second followed by the Australian driver, Daniel Riccardo at third position. Possible championship contender Sebastien Vettel thankfully came fourth and Perez came fifth. However, I need to credit Vettel as he gained three positions in the space of 5 laps which is pretty good in my opinion.
"To come here and deliver what we've delivered is a great blow to the Ferraris," says Hamilton after cutting Vettel's title lead to 12 points. "There were no troubles today, it was a beautiful Sunday drive," said Hamilton. "It's always a great feeling to deliver and to have it all under control is always an amazing feeling."
Furthermore, Lance Stroll scored his first points in F1 as the Canadian youngster claimed ninth for Williams at his home race. However, Fernando Alonso's Honda engine blew up making him lose out on points in this race however he made new friends by jumping into the Montreal crowd so I'm guessing he's still happy?
Alonso's retirement however meant McLaren still continue to remain without a single point this term amid ongoing speculation they are on the verge of divorcing their struggling engine partners, Honda. 
If you're an avid Formula One fan and regularly watch the GPs like me, you'd know that the Canadian Grand Prix is never drama-free. Whether there's constant crashes, bad weather or arguments between the drivers, the race always bring some sort of drama. At the beginning of the race, all eyes were on Hamilton and Vettel who were starting alongside each other. However, it was Max Verstappen who stole the limelight as the Red Bull youngster overtook the Ferrari driver, Vettel, to leap from fifth to second position. However, this caused contact between the two drivers and the damage forced Vettel into an early stop and a two-stop strategy in the race, while Verstappen ended up in a battery failure causing frustration and anger without a doubt. The world championship leader, Sebastien Vettel, re-emerged from the pits in just 18th and quickly set about climbing back through the field in his wounded car.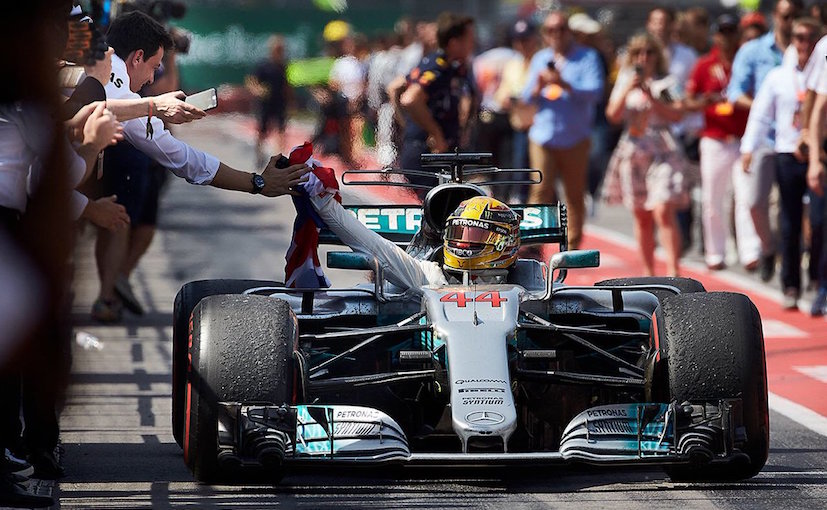 After the emotion of his Saturday pole position matching the record of Ayrton Senna, Hamilton was surprisingly cool, calm and collected. I got to admit, Hamilton drove amazingly in this race. His wheels were off line throughout the race, running the ultrasofts for over 25 laps on his first stint and building up a comfortable ten-second lead by halfway which is incredible especially in the Montreal racetrack where races are always full of drama and chaos. In fact, Hamilton was so relaxed that he was heard frequently asking for updates over team radio on Vettel's progress and began thinking about his past victories here in Montreal. This cool, calm performance of his is probably what led him to win the race and achieve his 6th win at Montreal. (YAY!)
"The team has been working 24/7 the last 10 days, we've had triple shifts in the simulator. Everywhere in the company you could come in in the middle of the night and there would be people working," said a Toto Wolff
This incredible performance closed the championship gap between Vettel and Hamilton to only 12 points, causing excitement and nervousness for the next race, the European Grand Prix in Baku, without a doubt.
Here is the overall Canadian GP Race Result:
1. Lewis Hamilton, Mercedes, 1:33.05.153
2. Valtteri Bottas, Mercedes, +19.783
3. Daniel Ricciardo, Red Bull, +35.297
4. Sebastian Vettel, Ferrari, +35.907
5. Sergio Perez, Force India, +40.476
6. Esteban Ocon, Force India, +40.716
7. Kimi Raikkonen, Ferrari, +58.632
8. Nico Hulkenberg, Renault, +60.374
9. Lance Stroll, Williams, +1 lap
10. Romain Grosjean, Haas, +1 lap
11. Jolyon Palmer, Renault, +1 lap
12. Kevin Magnussen, Haas, +1 lap
13. Marcus Ericsson, Sauber, +1 lap
14. Stoffel Vandoorne, McLaren, +1 lap
15. Pascal Wehrlein, Sauber, +2 laps
DNF Fernando Alonso, McLaren;
DNF Daniil Kvyat, Toro Rosso;
DNF Max Verstappen, Red Bull;
DNF Felipe Massa, Williams;
DNF Carlos Sainz, Toro Rosso
Once again, Hamilton delivered us all with a great performance in Canada and a reminder of the talented driver and sportsman that he is ever so well known for. The next race is in Baku, Azerbaijan from Friday 23rd June to Sunday 25th June 2017 so make sure you watch & stay tuned for more F1 news!
Safa X