It's been quite a while since I last wrote on my blog due to exams, school and life etc. This post will be fairly short in comparison to the usual lengthy reviews about races because of that. BUT nonetheless, I've been keeping up with Formula 1 so even though I didn't write about the last Grand Prix (the Russian one), I'll talk about it alongside the Spanish Grand Prix today that held place at the Circuit de Barcelona-Catalunya.
First things first then, the Russian Grand Prix…..
Hamilton  no wait  Vettel  actually no, Bottas (yep, I said it)… Mercedes' newcomer, Valtteri Bottas won the Russian Grand Prix whilst Lewis Hamilton finished fourth behind Kimi Raikkonen. In the qualifying, Ferrari managed to have their first front-row lock out in nine years with Vettel and Raikkonen at P1 and P2. However, over the course of the race, Bottas managed to overtake Vettel and Raikkonen to become P1 and take home the victory at Russia. Furthermore, Palmer's race only lasted only a few hundred metres in the first lap as his Renault was involved in a crash with Haas' Romain Grosjean at the first corner of the race.
Grosjean was trying to pass on the inside and was a significant way alongside but Palmer turned in anyway, saying he had no room to move outside because of another car. This caused Grosjean to bounce over the kerb and the two collided sending them both spinning into retirement. From the situation, the stewards decided to take no action, ruling neither was predominantly to blame so nothing happened. (yay) Okay so that was the shortest summary of the Russian Grand Prix, but now to last weekend's Grand Prix in Spain.
DBVFJSDBSDNKDJNSKD LEWIS HAMILTON WON YAY YAY
The top three were as followed:
Lewis Hamilton (Mercedes)
Sebastian Vettel (Ferrari)
Daniel Riccardo (Red Bull)
This race was particularly my favourite to watch because usually with the Spanish Grand Prix, you can expect the leader to separate from the pack of race cars within the first ten laps and it ends up being one of those races where the cars just end up racing behind each other continuously but no 'real' racing happens because everyone's too far away from each other especially the race leader.
BUT DUDE
That totally did not happen on Sunday. The race was so tense. In the first lap, there was plenty of action with a collision between Raikkonen and Verstappen leading them to both retire from the race. Furthermore, Vettel passed Hamilton off the start line and ended up leading for the first half of the race, automatically making us all assume that Vettel will win the race already. However, Hamilton was chasing and chasing him for many laps then finally managed to overtake him and become pole position. This gave him his second win of the season cutting his point distance to Vettel in the championship to six points after five of 20 races.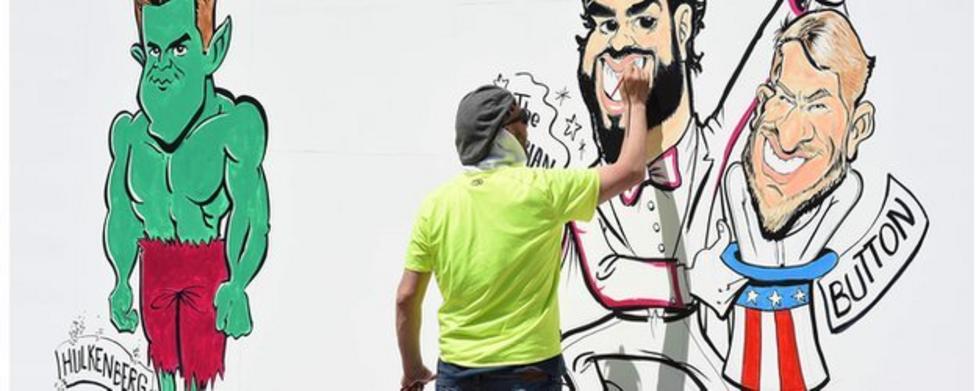 Drawings of drivers of Formula One by a Spanish Artist
The race turned during a period of the virtual safety car, when cars were forced to lap at controlled speeds while Stoffel Vandoorne's McLaren was being removed from a dangerous part of the track,  which went off at the first corner after a collision with Massa. The VSC was in play for two laps and Mercedes waited until it was just about to end to pit Hamilton for a set of soft tyres.
Ferrari responded to Mercedes by stopping Vettel for the final time a lap later and he rejoined from the pits as Hamilton pounded down the pit straight. Hamilton now had to pass Vettel on a track where overtaking is notoriously difficult. He pressured Vettel hard for the next seven laps before getting close enough to try for a pass at the start of lap 44. Hamilton was close enough at the final corner to get the DRS overtaking aid and he swept by Vettel around the outside into Turn One.
Hamilton, who sounded breathless and anxious on the radio throughout the race, tensely asked his team what he needed to do in terms of building a gap while also protecting his tyres, and Ferrari briefly considered switching strategy to make an extra stop however he controlled his pace exquisitely to take his 55th win and almost certainly one of his best.
After helping Hamilton out, Bottas looked set for third place but he broke down with an engine failure on lap 39. His retirement handed third place to Red Bull's Daniel Ricciardo, a huge 73 seconds behind Hamilton and Vettel. Red Bull's Max Verstappen and Ferrari's Kimi Raikkonen retired on the first lap after a collision at the first corner as they went three-abreast with Bottas. Force India took fourth and fifth with Sergio Perez and Esteban Ocon, with Renault's Nico Hulkenberg seventh.
Fernando Alonso had a dispiriting day 24 hours after thrilling his home fans and impressing the paddock with a stunning seventh place on the grid. The McLaren driver dropped to 10th on the first lap when he was forced wide and off the track at the second corner by Williams' Felipe Massa and had to drive through the gravel to rejoin. Alonso will fly overnight to America to start his assault on the Indianapolis 500, for which he is missing the next race in Monaco, where Jenson Button will come out of retirement to substitute for him.
Vettel did little wrong – and his race included that superb pass on Bottas – but it's hard to look past Hamilton. After the decisive strategy move, he did the right thing in avoiding a collision with Vettel as the Ferrari came out of the pits and he tracked Vettel superbly and pulled off his own great pass to take one of his greatest wins.
Now, we have to brace ourselves for the next Grand Prix which will be Monaco, home of Lewis Hamilton, and one of the most eventful races of the Formula One season.
!!!!!!!!!!!!!!! I CAN'T WAIT !!!!!!!!!!!!!!!!!!
Safa X
Enjoy race exclusives below:
http://www.espn.co.uk/f1/story/_/id/19387487/spanish-gp-fight-triumph-formula-one-2017-rule-change
https://www.formula1.com/en/championship/races/2017/Spain.html